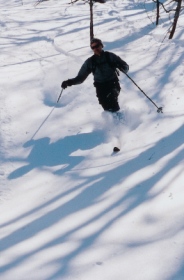 ---
PHOTOGRAPHY
Home
Introduction
Nature, Photographs
+ The Mind's Eye
Biography
Galleries
Links
Article by Nat Worman
---
FRENCH LESSONS
Home
Schedule of Classes
France + Belgium
Excellent Teachers
+ Life Experiences
Bilingualism + Parents
Bilingualism in Children
---
WEB CONCEPT
MEMBER
Trout River Network
Last updated
Jan 28, 2013
Links

Hazen's Notch Association
Montgomery Center VT 05471

Conservation + Environmental organization.

www.hazensnotch.org

Green Mountain Club
Waterbury Center VT 05677

Founders + steward's of the Long Trail
Rolf Anderson was President of the GMC from 1997-2000.

www.greenmountainclub.org

Catamount Trail Association
Burlington VT 05401

Founders + steward's of the Catamount Trail
Rolf Anderson served on the CTA board of directors from 1987-2000.

www.catamounttrail.org

Vermont Voyageur Expeditions
Montgomery Center VT 05471

Rolf Anderson worked as year-round guide and instructor from 1980-1990.



Vermont Voyageur Equipment
Montgomery Center VT 05471

Rolf Anderson designed and manufactured outdoor clothing + equipment from 1981-1994



Institute for American Indian Studies
Washington CT 06793

A museum, education and research organization.
Founded by Edmund K. Swigart, Biology teacher and Science Department Chair at the Gunnery School. Ned was also the head of the Gunnery School Outdoor Club when he took a leave of absense to found the IAIS. Ned asked Rolf to lead the Outdoor Club that year. Ned's founding of the IAIS served as an inspiration to Rolf in his planning to start the Hazen's Notch Association.

www.birdstone.org

Rolf Anderson's photographs
can be seen and purchased
at the locations listed
on the Galleries page.




National Outdoor Leadership School
Lander WY 82520

Organization that gave Rolf his professional training as mountaineering instructor.

www.nols.edu

Mt. Washington Observatory
Pinkham Notch NH 03860

Center for scientific research on the highest summit in the northeastern U.S.
Rolf Anderson worked at the Obs with Guy Gosselin, John Howe, Al Oxton & Norm Michaels.

www.mountwashington.org

White Memorial Conservation Center
Litchfield CT 06759

A conservation land trust, environmental education center + nature museum.
Rolf Anderson worked at the White Memorial Conservation Center. The organization served as an inspiration for the founding of the Hazen's Notch Association. White Memorial administrators provided valuable guidance and support to the founders of the HNA.

www.whitememorialcc.org

Upper Missisquoi + Trout Rivers Study
East Berkshire VT 05447

National Wild + Scenic River System
The Missisquoi River Basin Association [MRBA] received support from the Rivers, Trails + Conservation Assistance Program of the National Park Service [NPS] to begin a study of the Upper Missisquoi and Trout Rivers for possible inclusion in the National Wild and Scenic Rivers System. Rolf Anderson created and manages the official websites of both the Wild and Scenic River Study [VTWSR.ORG] as well as the Missisquoi River Basin Association [MRBA].

www.vtwsr.org

Contact


Rolf Anderson
at this address:
rolf[at]rolfanderson[dot]net
For more information about my work as a landscape steward, conservationist, naturalist, photographer, environmental educator or French teacher, please contact me. My mailing address and email address are below.